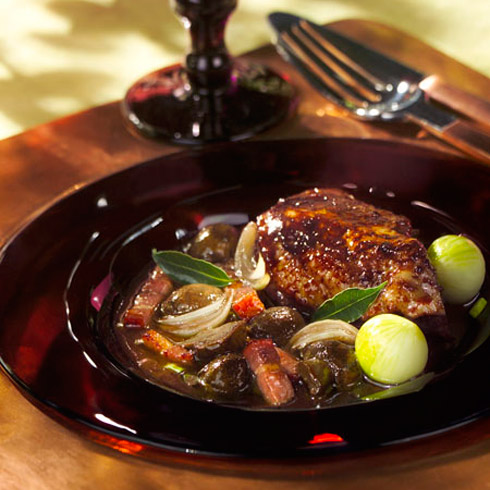 Cut the bacon
Dust the chicken pieces with flour.
Pour the oil in a pot, heat and put the chicken pieces in to brown on all sides then remove and set aside.
Saute the bacon with the mushrooms and the onions for about 2 minutes, until the onions become translucent and start to brown.
Put the pieces of chicken back in the pan. Add the wine and bring to a gentle boil.
Cook covered, simmering for about 1 hour, depending on the size of the chicken. Test its doneness after 45mn. Check the leg joints to see any trace of blood. If blood still remains, cook the chicken for 5 more minutes on a low flame.
Once the chicken is cooked, remove the pieces from the pan. Reserve them onto a plate.
Simmer the cooking liquid until it is reduced down to half of its volume.
Meanwhile, put the peeled pearl onions in a shallow pan and cover them with water. Add a piece of butter the size of a walnut, a teaspoon of sugar and a pinch of salt. Simmer the onion until all the water is gone. The sugar and butter will form a glaze. Roll the onions around the pan to coat them with this glaze. Reserve the glazed onions on the side.
Thicken the reduced cooking liquid with a little corn starch dissolved in a little water or port wine.
Season to taste.
Return the chicken and the onions to the sauce and bring to a simmer.
Place the chicken on a serving dish, decorate with parsley.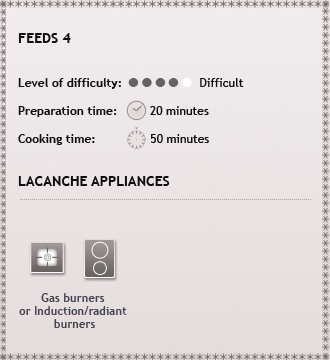 1 Free Range Chicken, cut into 6 pieces
2 TBS Peanut Oil
40gr butter
300gr. Fresh Pearl Onions
150gr. Thick Sliced Smoked Bacon cut into pieces about 1cm thick pieces
500gr. Fresh Mushrooms Quartered
2 Chopped Onions
1 Bottle Burgundy Red Wine (or other good red wine)
Salt & Pepper
1 bunch Chopped Parsley
4 bowls
1 large shallow saute pot with lid
1 sauce pot