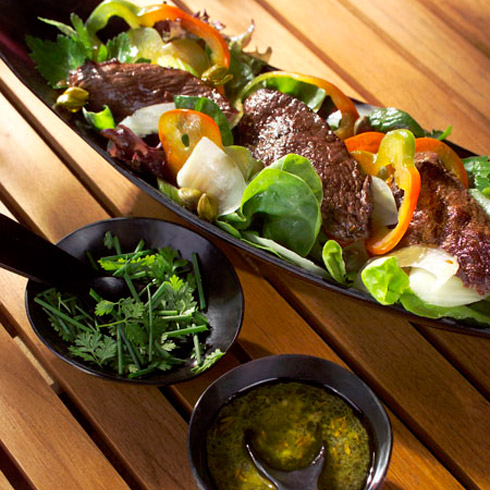 Mix the pressed garlic, fennel seed, wine and olive oil and marinate the meat for at least two hours or overnight.
Turn the meat over several times during the marinating time.
Cut the peppers and fennel in thin strips.
Dip the strips in boiling water for 15 seconds and chill in iced water immediately and drain well.
Heat-up the griddle or the grill for at least 10 minutes
Take the meat out of the marinade and pat it dry with a paper towel
Cook the meat on the griddle (or on the grill) to the doneness you desire.
Reserve the meat in a shallow dish and let the meat cool before cutting the strips.
Meanwhile, reduce the marinade in a sauce pot to about 1/5 of its volume.
Prepare the salad dressing and add the reduced marinade to the dressing.
Mix the salad greens with some of the dressing and place on the plate.
Mix the peppers and fennel with the rest of the dressing and place on top of the salad with the capers.
Slice the meat and place it around the salad.
Serve cold.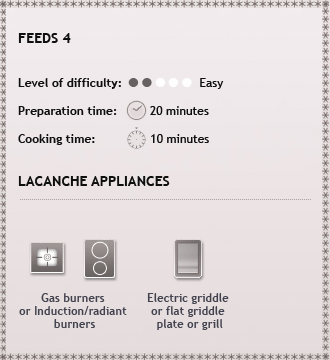 Marinade:
1kg New York Strip Steak or Rump Steak
6 cloves Pressed Fresh Garlic
100cl. Olive Oil
250cl. White Wine
1 TBS Fennel Seeds
Salad:
4 Bell Peppers (red, green, orange, yellow etc.)
1 large Fennel Root
Mixed Salad Greens
Salad Dressing:
1 TBS Dijon Mustard
2 TBS Xeres Vinegar
6 TBS Olive Oil
Salt & Pepper
2TBS Capers
2 bowls
1 gastro tray
1 pot
1 shallow dish
1 sauce pan
1 colander
1 salad bowl