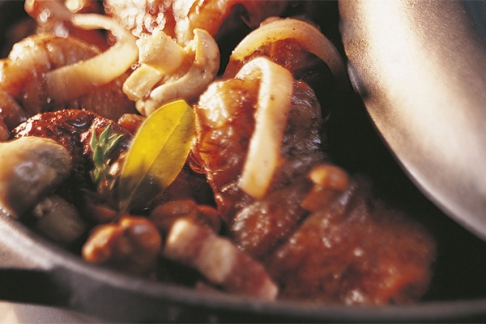 This dish requires the preparation of a marinade (marinating time: 12 hours).
Marinate the poultry pieces in the wine, garlic and herbs in the mixing bowl.
Brown the lardons in the casserole pot, remove them and set aside.
Remove the poultry pieces from the marinade, sponge gently.
Brown them in the casserole pot with a little oil.
Pour the marinade, after passing it through the strainer, over the poultry pieces. Add the lardons. Check the seasoning, cover and simmer for 1½ to 2 hours onthe gas simmer plate.
Remove the poultry pieces and arrange them on a serving dish. Keep them hot in the oven (70°C).
To prepare the sauce, work 40g of butter into the flour.
Use the whisk to mix the flour-butter mixture into the marinade, then reduce on the simmer plate.
Lightly pan-fry the mushrooms in butter on a brisk flame.
Place the mushrooms on the poultry pieces. Cover with sauce. Serve up.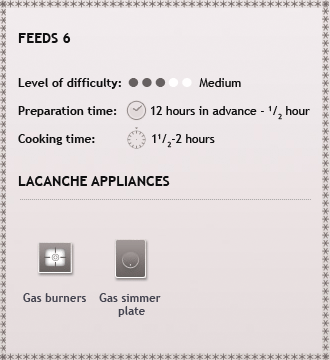 A 2.5-kg cock cut into pieces
1 or 2 bottles red burgundy
1 generous slice of half-salt bacon cut into lardons
10 small onions
1 tablespoon flour
100g butter (40g for the mushrooms, 60g for the sauce)
500g white button mushrooms
1 bouquet garni (thyme, bayleaf, parsley)
2 cloves garlic
Salt, pepper, oil
1 frying pan
1 cast-iron casserole pot
1 large glass mixing bowl
1 conical strainer
1 slotted spoon
1 whisk
1 meat skewer
1 small glass ramekin
1 medium-sized ladle
1 serving dish