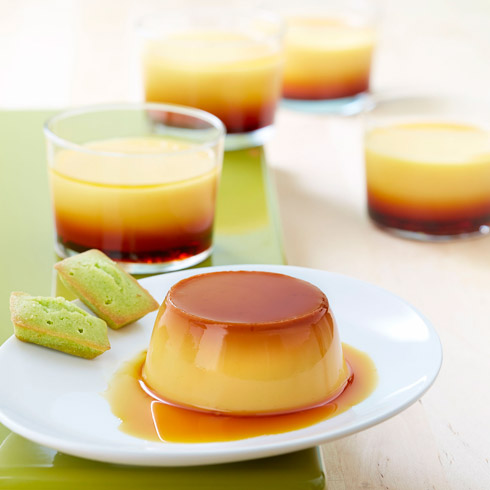 For the custard:
Bring the cream, the milk and the splitted vanilla bean to a boil in the sauce pot.
In a bowl, mix the sugar, eggs and the vanilla extract with the whisk.
Let the hot milk/cream mixture sit for a few minutes with the vanilla bean
Remove the vanilla bean and scrape the inside. Add the paste scraped out to the cream milk mixture
Pour the cream/milk over the egg mixture. Mix well with the whisk.
Strain the mixture into a clean bowl

For the caramel:
Place the ramekins in the gastro perforated pan.
In a clean, heavy bottom sauce pot, place the sugar, the water and the vinegar
Bring the sugar mixture to a boil over an even medium heat
The sugar will start to change color once all the water has evaporated.
Do not stir the mixture as it will crystalize just swirl the pot over the heat instead.
Rapidly, the color of the sugar will evolve from light yellow to dark brown.
When the sugar reaches a nice caramel color, remove the pot from the heat.
To stop the cooking of the caramel, and being very careful of the projections, add the ice cube in the caramel, swirling the pot.
Pour a thin layer of caramel into each ramekin, making sure that the bottom is well coated

To finish the custards:
Fill the multicooker with water up to the first mark
Set the thermostat to 40/45°
Fill each caramel coated ramekin with the custard mixture as close as possible to the rim
Place the perforated pan in the multicooker
Lay a layer of plastic wrap across the ramekins to prevent any condensation water from dropping in the custard while cooking
Place the cover on the Gastro pan
Cook the custard for about 25 minutes, until they set. To check if they are set, place the tip of a knife in the custard. It should come out clean.
Remove the pan from the multicooker.
Remove the plastic wrap carefully.
Place the ramekins in the refrigerator for at least 6 hours.
When ready to serve, run the tip of a knife around the edge of the custard and unmold it on a plate
The custard should unmold easily, and the caramel will coat it.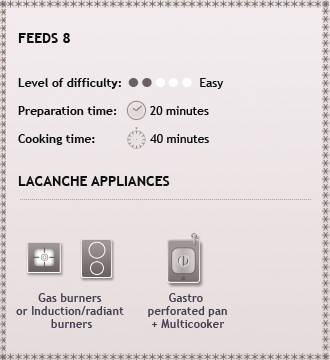 For the custard:
25cl Heavy cream
75cl Milk
6 whole eggs
70 gr sugar
Natural vanilla extract
1 vanilla bean split

For the caramel
200gr sugar
10cl water
2cl white vinegar
1 ice cube
2 bowls
1 strainer
2 sauce pot
1 stiff whisk
8 porcelain dishes (ramekins)